Racket INFOs
It is often asked for recommendations on great badminton racquets.
The only true answer must be
TEST, TEST, TEST
Don´t choose rackets by looking the Internet, or because XY recommends some!!! The "high-Ultra-Exclusive-part" for over 190 € can be the right one, but it is possible that instead the 30-40 € racket from the bargain does fit individually better.
Frequently, racquets break in the double game due to collisions. Expensive (filigree) rather than cheap (robust).
Advanced players (especially tournament players) I advise to have 2 identical, or at least comparable racquets. In the event of a damage to the string or the frame, replacement is always possible.
Borrow some rackets from other players for a few strokes. After a short time you can feel your preferences (head heavy, head light, balanced).
If this method is not possible, then visit a sports shop with a good selection of different companies and price ranges. Do some virtual air strokes in the store:
Forehand, backhand, clears, drives, etc.
Good shops offer the opportunity to test approximately 3 models in the sports hall.

My training students have an advantage:
They can try for free about 40 repaired or used racquets of different weights, grip strength, string types, string hardening etc.
These racquets can be purchased for a spot price.
External purchase is of course no problem.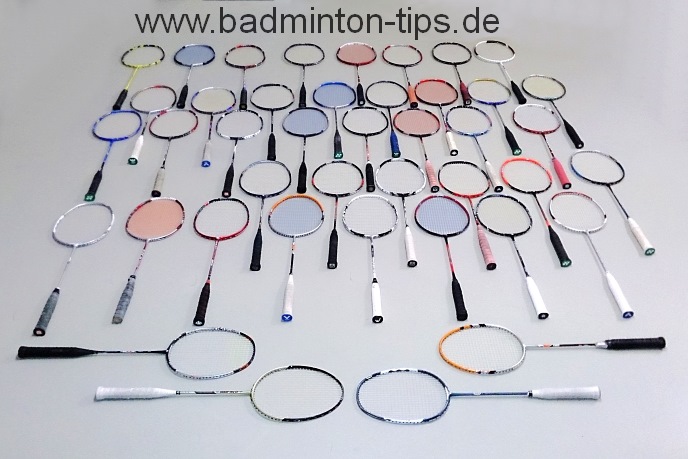 Adjustments:
Often it is sufficient to optimize an existing racquet by changing grip, tension and / or string type. After careful deliberation I can do this quick and cheap.
Pain in shoulder, elbow, tendons, etc .:
You can try a racquet with less stiff shaft. A softer string and / or enlarged head shape (ISO) can also help.
Rackets for children:
Short racquets for small kids make sense. Instead of buying a new special racket you can shorten a normal old one.
Headform:
Previously, the racquet head was drop-shaped.
Nowadays oval or isometric heads are usually offered. Especially the latter offer a bigger sweet spot (optimal hitting place).
Which one to preffer, everyone has to try it out.